Now that the last copies have been delivered all over the world , we're finally ready to release online our last REGGAE CALLING mixtape! Including special featurings of Jah Cure, Omi, Jessie Royal, Alborosie, Chronixx, Kabaka Pyramid, Romain Virgo, Lion D, Loyal Flames, Gappy Ranks, Dalton Harris and many more, Reggae Calling brings you the latest reggae vibes straight out Jamaica.
After the incredible success of "Welcome Back * Good Reggae Music", REGGAE CALLING is the result of another international project, printed in a real cd in few thousands of copies, released on august 2015 and sold out in only 3 months, but never released on internet until now, because reggae music, at the end, stays in places where a cd still rules in your hands, because no mp3 can't really satisfy your eyes.
Take a listen of some good reggae songs, mixed and delivered by your favourite sound system.
DOWNLOAD LINKS:
Heavy Hammer Sound – Reggae Calling Mixtape (One Track)
http://www.heavyhammer.it/ftp/mixtape/reggae-calling/getfile.php?name=Heavy_Hammer_Sound-Reggae_Calling-2015-One_Track
Heavy Hammer Sound – Reggae Calling Mixtape (Separated Tracks)
http://www.heavyhammer.it/ftp/mixtape/reggae-calling/getfile.php?name=Heavy_Hammer_Sound-Reggae_Calling-2015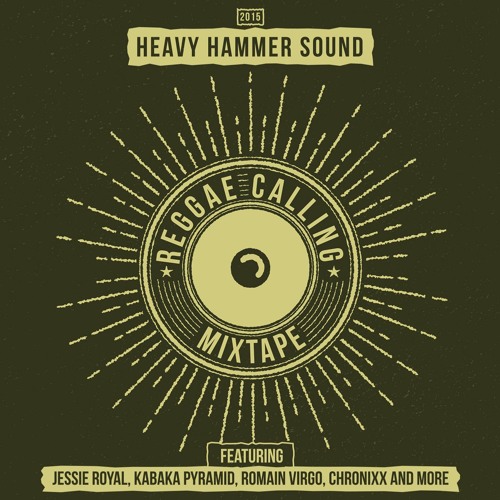 Tracklist:
1. Jesse Royal – Finally (DUBPLATE)
2. Alborosie – Poser (DUBPLATE)
3. Lion D – Ruff inna town (DUBPLATE)
4. Alborosie – Rocky Road (DUBPLATE)
5. Romain Virgo – Star Across The Sky (DUBPLATE)
6. Jo Mersa Marley – Rock And Swing
7. Lion D – Blaze Up (DUBPLATE)
8. Randy Valentine – Roots And Culture
9. Randy Valentine – Wake The Town
10. Jesse Royal – Ghetto Girl
11. Assassin aka Agent Sasco – What's The Story
12. Inner Circle feat. Chronixx – Tenement Yard
13. Randy Valentine – Mama said
14. Morgan Heritage feat. Jo Mersa Marley – Light It Up
15. Jah Cure – Life We Live (DUBPLATE)
16. Busy Signal – Roots Rock Reggae
17. Kabaka Pyramid – Phenomenon (DUBPLATE)
18. Loyal Flames – Joy Again (DUBPLATE)
19. Beres Hammond – Jamaica International Dance
20. Busy Signal – Money Flow (DUBPLATE)
21. Kranium – Can't Give A Fuck
22. Gappy Rank feat. Sugar Minott – We've Got A Good Thing
23. Loyal Flames – Build A Vibes (DUBPLATE)
24. Morgan Heritage – Strictly Roots
25. Morgan Heritage – Talk Dem Ah Talk
26. Tarrus Riley – Cool Me Down
27. Zagga – Ladies Around The World
28. Assassin aka Agent Sasco – Country Bus
29. Dean Fraser – Sax On The Bus
30. Busy Signal – Reggae Make You Rock
31. Christopher Martin – Sweet Sweet Love
32. RC – Propaganda
33. Romain Virgo – Stick By You (DUBPLATE)
34. Lion D feat. Alborosie – Heartical Luv
35. Sanchez – In The Ghetto
36. Gappy Ranks – I Rise
37. Gappy Ranks – Guide Me (DUBPLATE)
38. Konshens – Badman Heart
39. Mavado – Kill Them Slowly
40. Alkaline – Weh You Did Deh
41. Popcaan – Mad Me
42. Vybz Kartel – Never Stay Around
43. Demarco – Love & Happiness
44. Chronixx – Ghetto People
45. Wayne Marshall – On The Corner
46. Iba Mahr – Talk If Dem Want
47. Kabaka Pyramid – Well Done (DUBPLATE)
48. Protoje feat. Jesse Royal & Sevana – Sudden Fight
49. Sara Lugo feat. Protoje – Really Like You
50. Million Stylez – One Drop
51. Exco Levi – You Never Know
52. Gappy Ranks – Generation (DUBPLATE)
53. Romain Virgo – Stay With Me
54. Christopher Martin – Steppin' Razor
55. Morgan Heritage – Why Dem Come Around
56. Jah Cure – Struggles
57. Kabaka Pyramid – Never Gonna Be A Slave (DUBPLATE)
58. Dalton Harris – Street Youths Anthem (DUBPLATE)
59. Gappy Ranks – Shining Hope (DUBPLATE)
60. Dalton Harris – Nuh Trouble We (DUBPLATE)
61. Lion D – Weh Dem Fah (DUBPLATE)
62. Omi – Standing On All Trees (DUBPLATE)
63. Romain Virgo – God Ina Mi Corner (DUBPLATE)
64. Ziggy Marley feat. U-Roy – Fly Rasta
65. Eddie Murphy feat. Beenie Man – Wonna Deez Nites
66. Protoje – Answer To Your Name
67. Richie Stephens feat. Chris Birch – Everybody Dance